Bhagwan Mahavir College of Nursing ,Vesu, Surat, was established by Bhagwan Mahavir Education Foundation in the year 2009. The College offers 60 seats for the four-year undergraduate Basic B.Sc Nursing course based on sound educational principles utilizing the latest trends in educational technology. Basic B.Sc Nursing program is a stepping stone for a higher level of education with necessary basic skills in teaching, research and supervisory roles apart from the patient care.
The college is equipped with full-fledged modern infrastructure and facilities to facilitate quality education and practice in the nursing profession. The college takes pride in having comfortable classrooms, well-equipped laboratories, library with an abundant book range, computer lab, audiovisual aids and conference hall. The College takes pride in having a highly dedicated teaching faculty with ample teaching experience and well qualified from various reputed institutions in the country. The clinical experience needed for students is offered at New Civil Hospital,Surat & Aamena Sarvajanik Hospital,Surat.
The College strictly adheres to the norms and regulations of Indian Nursing Council, Gujarat Nursing Council and Bhagwan Mahavir University(BMU).
The college imparts quality nursing education and training to students interested in pursuing a career in nursing.
Nurses to be provided sound basic nursing education, nurtured, encouraged to believe in themselves and instilled with the values of service to the society.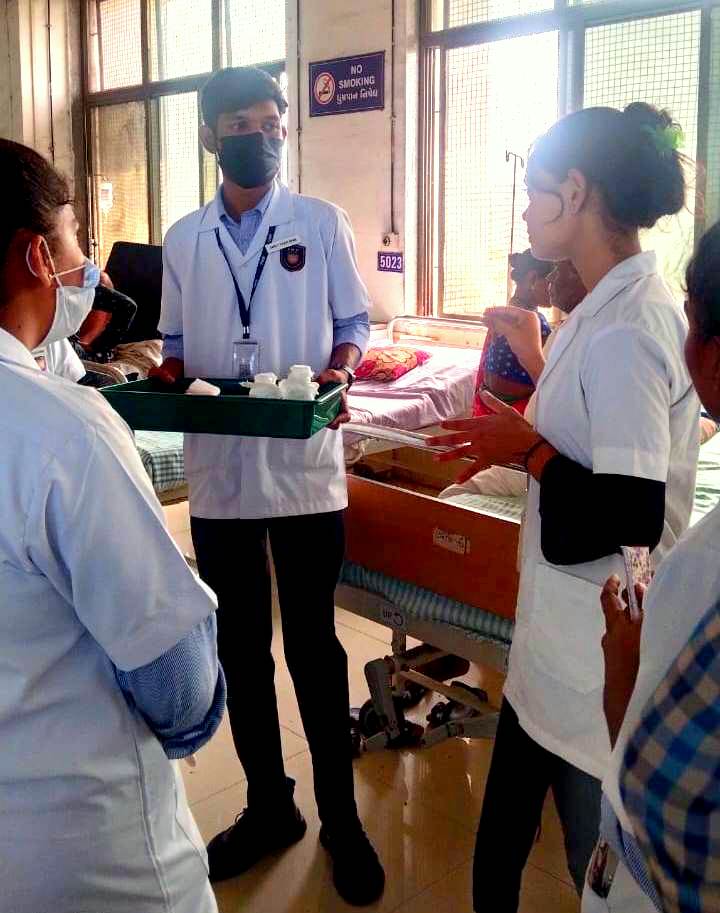 BMCN believes in training professional nurses from all states of India to meet the great challenges of service in the field of nursing. The college believes in a system of nursing education that fits in with the changing educational patterns of the country to meet health needs of the society.
To promote the deeper study of nursing with a view to generate new prospective and about innovative approaches to deal with problems encountered in nursing and health field.

2. To maintain a centre of excellence for the pursuit of higher studies in nursing and act as a pace – setting institution to strive to give direction to nursing, to serve better to the contemporary and future needs of nursing development.
3.Use effective communication and leadership skills in interprofessional teams to promote positive change in the health care of people, newborns, and families.
4.Use information systems and other technologies to improve the quality and safety of health care for people and newborns